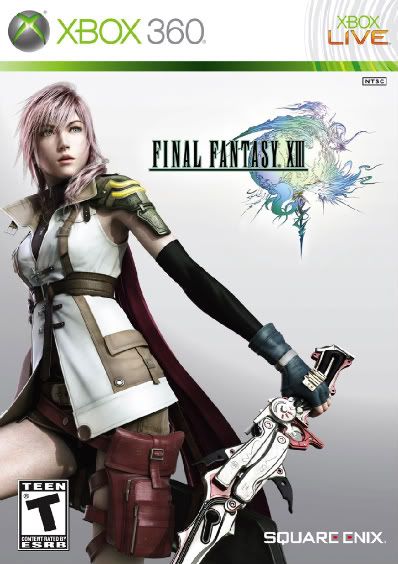 Final Fantasy, the father of RPG's. It began with a simple concept: recruit a party of four misfits to gather the crystals of light and vanquish an evil that threatens existence. It was Square's final bow and turned out to be the first of many. It popularized the RPG genre and spawned sequel after sequel after spin-off after sequel of spin-off after infinite possibilities of clones of God knows what. There are so many Final Fantasy titles that one could easily be driven away from the series for fear they would be completely lost jumping into even one of them. However, each game is its own set of characters, story, and customization. One could play the main series out of order and still grasp each one perfectly. Yes, it's a truly worshiped title and one that fully deserves it.
The developers at Square Enix spared no luxury when creating this entry. The flawless battle system is so smooth and polished that you could, quite possibly, see your reflection in it. To explain this seemingly complex system would take a while, but I'll skim over the basics.
At first, you don't have much of a choice in commands. You're able to auto-attack, manually select an individual ability to use, or consume and item. When auto-attacking, the AI will choose the skill it thinks suits the situation. It's a very useful tool that will probably be used more than manually selecting abilities, which merely slows down the fast pacing of battles. Oh, and you're healed fully after every encounter.
Eventually, you're introduced to the Paradigm Shift aspect of fights. This is where it gets good. When you press the left bumper, you're able to shift to a different "paradigm" on the fly. Paradigms are sets of character classes. You may be in one paradigm where your three party members are all Ravagers (Black Mages), all casting spells, when your party leader takes a critical hit. She's about to die, so you switch to another paradigm where the two supporting characters instantly switch to the Medic (White Mage) class and your leader to a Sentinel (Defender). The supporting characters heal her whilst she defends from further threats. Once she's out of danger, you can switch to a different paradigm where one character becomes a Saboteur (De-buff Mage) to weaken the enemy's defenses, one becomes a Synergist (Buff Mage) to strengthen the party, and one becomes a Commando (Warrior) to beat the enemy into submission. There are a staggering amount of possibilities when customizing paradigms. Being able to change your characters' classes in the middle of the battle brings an entirely new level of strategy to the game.
If you attack an enemy, a gauge in the upper right corner of the screen will begin to fill up. When it's full, the enemy will become "staggered." A staggered enemy will increasingly take more damage and is much easier to kill. It seems Ravagers fill the gauge more efficiently while Commandos are able to keep a gauge from depleting very quickly. A good mix of both is key to stagger your foe.
Eidolons are your summon monsters of XIII. Each character has his/her own personal Eidolon, acquiring them at set points in the game. When you encounter one, you must impress the Eidolon by fulfilling a certain requirement during the battle with it. By using Libra, you can read exactly what you need to do to impress it, but you don't have much time to do so. At the start, it places a Doom spell on your head that will end your game if it reaches zero. Just do what you need to impress the monster, press X when the Gestalt gauge is full, and you'll be fine. Once you win over the trust of the Eidolon, you may summon it in battle. There are two modes when fighting alongside them. The first mode is physical, wherein you and your summon must deal as much damage as possible to the enemy to fill up your Eidolon's Gestalt gauge. Once it's at a good length, pressing X will enter that oh-so-odd vehicle mode you witnessed after recruiting the fey beast. You may then enter various button combos to inflict massive damage and finish off with your monster's signature move.
Another deviation from the series' staple is the way you improve your characters. Instead of earning experience points for every creature, you gain points for each battle you fight which you may allocate to certain jobs that suit a specific character, much like the Sphere Grid of Final Fantasy X, but a lot less complicated.
The characters are very lackluster. It's more like something out of an anime than a group of individuals with characteristics that make them special and interesting. Each one has a very boring and centered goal, be it save the princess or just get revenge. Snow is the generic hero that wants to make everything right, Lightning should've been named Ice because she's a bitch, Hope is an emo punk kid, Vanille is a brain damaged preteen with an accent I will never be able to identify, Sazh complains about himself being old when he doesn't even look more than thirty-five, and Fang is... well, one-sided. We don't get much more than that and their types have been done before, and to much greater effect.
The story suffers from the same issues the characters do. While it's disguised as an original plot, it's nothing more than a rehash of similar devices used in countless other games and movies. A party of people come together and must fulfill a totally ambiguous request, which just turns out to be a giant monster battle and unsurprising twist decision, lest they be turned into hideous monsters or win and become crystal statues. This may be enough for most people, the cinematic quality expertly hides faults to the blind eye, but will let down people who dig deeper than the surface.
Another small issue I had was with the flashbacks. They show them completely out of order, therefore the supposedly dramatic parts become less impacting, since we already know how it turns out. A small complaint, but again, it can be missed if you don't think much about it.
The graphics rival reality with stunning environments and creepily detailed character models. However, none of the music in XIII stands up to the previous games. They're all completely forgettable, but adequately do their job in providing a decent atmosphere when adventuring. That's not to say a better soundtrack wouldn't be welcomed, in fact, it would be greatly appreciated as the current one does not do the visuals proper justice.
Overall, Final Fantasy XIII is a marvelous game. The presentation is fabulous, the gameplay fun and involving, and the length enough to keep you on the couch for quite a while. If you're a fan of old school RPG's, this one's fast pace and experimental system may scare you, but it's a huge leap forward for the entire genre. Hopefully, in the future of Final Fantasy, they'll be able to utilize this fantastic array of ingenuity and diversity to create an experience worth converting into a full-blown religion. However, we've a long way to go before we start worshiping Yevon.