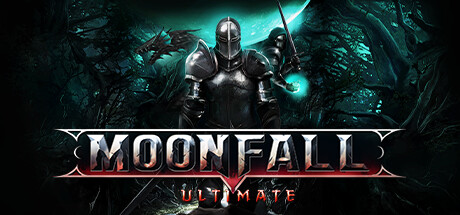 Inspired by the classic side-scrolling beat 'em up, 'Golden Axe', comes Moonfall Ultimate. The hand-painted 2D action RPG is out today on Steam, PlayStation 4 and Nintendo Switch. This will be closely followed by the Xbox One release on 5th September.  
Watch the trailer | Request a review code | View the press kit
'Moonfall' was originally released on Steam and after a successful launch and by popular demand, the game is now receiving additional content plus support for current-gen consoles. Now with Moonfall Ultimate, players can expect everything they loved from the previous version with the addition of:  
 Endless Arcade mode
2-player local multiplayer (Campaign and Endless Arcade Mode)
Cinematic story intro
Full controller support
Interface optimization
Combat tweaks  
Set in an industrial gothic universe, you'll hack, slash and cast your way through a treacherous hand-painted world. Choose your class and upgrade your gear with metroidvania-style exploration and a focus on strategic real-time combat. Discover a story of The Empire, a once small kingdom now under threat from so-called Savages. They hunt a mysterious element known as Lunarium which resides in The Empire and you, a dauntless recruit, must protect the land at the front line.  
"We are very pleased to be able to offer Moonfall Ultimate for our players on PC and consoles early in September 2018.  We believe, that special game modes will delight many players, especially local multiplayer will bring a lot of fun.  
We are honored that we could cooperate with the professional team from Wales Interactive, and we are proud that our game will be published by such a successful British publisher. Together, we will try to bring more games of  the high quality level in which players spend many great experiences that will remain in their memories for a long time." Stefan Nitkulinec, Project Director at Fishcow Studio.  
Check out the new trailer right here:    
Moonfall Ultimate is out today.