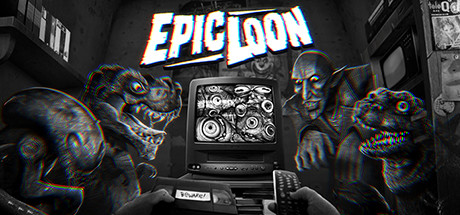 Ukuza is pleased to announce the official launch of Epic Loon in conjunction with developer Macrales Studio and producer Shibuya Productions. The quirky, 4-player couch co-op platformer revolves around a group of aliens hellbent on destroying the film collection of the human that awoke them from their slumber inside a VHS cleaning tape.
Epic Loon has received numerous awards and accolades even before its launch, earning the top spot and money prize from MAGIC Monaco's 2016 Game Creation contest. Now, their cast of cosmically chaotic killjoys will be making their way to PC and console at the end of next month.  
Shane DeLumeau, CEO and Founder of Ukuza: "To see this menacing party game finally come to light on the PC, Nintendo Switch, and Xbox is amazing. We can't wait to see everyone destroying their friendships in our battle mode while traversing parodies of their favorite classic movies!"  
Max Lagache, Lead Programmer, Producer and Sardonic Genius of Epic Loon: "Epic Loon is getting released, at last we can get out of our basement and see the daylight!"  
Wax Devoghelaere, CEO of Macrales Studio: "I'm really proud of what we've done. In my 10 years of experience, I think it's the first time we've put all we wanted in a game. We really crafted it with our heart and guts and that's the most important for me. The support of Ukuza is awesome, they have really felt the spirit of this special game and now I'm just waiting for the feedback of players."
Although it's a little old here's the trailer from January:
Look for Epic Loon on PC, Xbox and Nintendo Switch on the 28th of June, 2018.