Marvel vs Capcom 2 was one of the best fighting games and it's still used at fighting tournaments to this day! With 55 heroes (including Wolverine before and after getting Adamnatium claws) or villains to pick from! This is the 4th battle with Marvel and Capcom teaming up with each other. Many comic book fans will enjoy playing as 'Your friendly neighbourhood Spider-man' or playing as a member of the X-Men. Leading the Marvel team we have newcomer Cable, leader of X-Force. Leading the Capcom side we also have a newcomer Ruby Heart. This is her 1st appearance and has the backing of the Street Fighters and Dark Stalkers. And like I like to be clear this game is a what if. It's not canon, meanings it's not going to affect either Marvel's or Capcom's universe
Gameplay 7/10
The gameplay is similar to other street fighter games you may have played. Never played one? Well okay it's not so bad! Your attacks include light, medium and hard punches, as well as kicks. The game is a 3 on 3 tag match where you can change your team member to either change with you or help you do a finisher. The combos you can do is pretty crazy where you can reach a 999 hit combo if you're a real pro. If you're not, don't worry, it's very basic and not to hard to do. It's just about finding who is right for you. The end boss Abyss has 3 different forms. The 1st version of him is an armoured looking warrior with his green ooze keeping the body together. While in this form he can either blast you with a super beam from his chest or make it rain with ooze. The 2nd form is his complete ooze form which shots out bubbles that can trap you. His next annoying power here is him spinning around causing him to send out spikes to hit you. The final form is a giant red/orange monster that can shoot out lava. Abyss is not a playable character, which is a smart move, especially for online players as Abyss would be too overpowered.
Graphics 5/10
This is where the downfall comes in. Capcom was really lazy and didn't really update the sprites for the older roster. A good example is the Darkstalkers which is a real shame. Capcom seem to of just copied and paste them into the game alone with everyone else they had from the previous versus games. The backgrounds look really cool with either fighting in front of a clock (which tells you the right time!) or just having it out in a circus. Some may find the stages weird. Example wise one of these more weird stages involves fighting on a boat. As I said of Abyss earlier, he does look pretty good and seeing his form change with the stage breaking apart is a nice feature.
Sound 4/10
Sound wise this is your traditional street fighter type sound effects. While Marvel side will speak in English, Capcom side will speak in Japanese. It's great that Capcom was able to use the voiceovers from the 90's Marvel shows to replay their roles! Music wise, it's very different indeed. Instead of the normal hard hitting music, MVC2 brings out relaxing jazz music. To some fans this was off putting to them while for myself, I enjoyed it. The music hasn't change a bit and it's great to hear I wanna take you for an ride again in the background!
Difficulty 6/10
It can be a nightmare when fighting someone like Ryu or sometimes even Venom who can do some serious damage to your health. Like all fighting games it is about finding out who you work best with for a 3 person team. The game has 4 difficulty settings and they are Easy, Medium, Hard or Expert. Each character has their own pro's and cons so it's down to skill more than anything else. The closer to the boss you get the harder they are. Be warned the computer will not go easy on you and may just do hyper combo's to kill you off. Get ready to see some amazing combos from the computer or cheap moves. Another complaint about the game is how hard it is to perform moves on the 360 d-pad. If you have an arcade stick then you will be fine. If not then I suggest you either get used to doing moves on the d-pad or try the analog stick.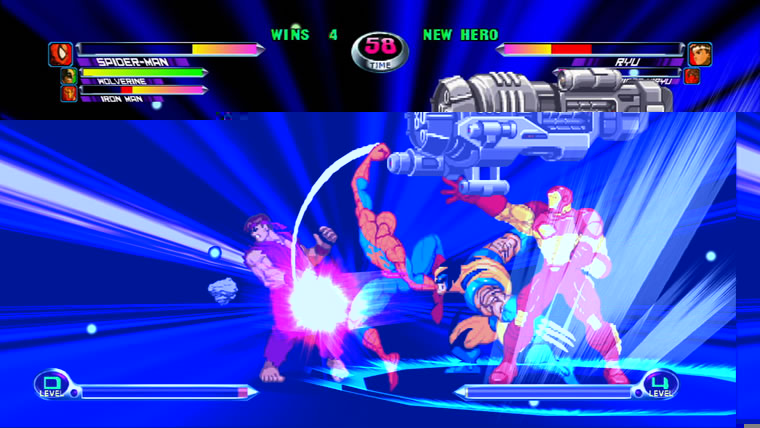 Achievements 5/10
Anyone new to the street fighter series may find this pretty hard. However with a little bit of practice you can get these. And yes this game has online ones as well! Online is still alive and shouldn't take long to find someone to battle with. Just so you know, some of the guys on there maybe really good. If you want to finish this game 100% you better get your skills and combo working! 4 Achievements ask you to finish the game as a certain team. What it doesn't tell you is that you need to this without losing a match. Practice with the team in training mode if need be to whip these one out.
Summary 5/10
Anyone who used to love playing this on their older consoles, this is pretty much an okay port. It's sad to see the shop not been there so you can buy everything yourself instead of everything been unlocked. The one good thing is lag isn't as bad compared to back in the day. One of the major setbacks is the price. 1200 MSP for a classic game like this is a hard pill to swallow. If your a new to the series or a fan of either side, this is a great chance to do it. For the hardcore fans this is just for you guys who want to duke it out online with your team. Newcomers, enjoy the ride and have fun playing one of the best Capcom fighting games.
Review was undertaken by a Xbox Resource Review Inductee, If you see a problem please feel free to point it out, they need your help to improve