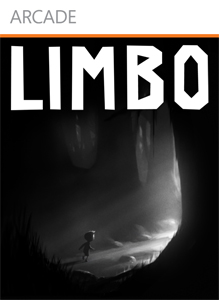 With the Summer of Arcade 2010 lining up some great new titles, LIMBO seems to define what a truly great arcade game is. The game is certainly one you do not stumble upon often, but when you do, you truly embrace what the developer was trying to do. Though simple with only three controls, LIMBO features a deep dark and eerie feel to the entire game. I can also bet you that you will never have so much fun dying in a game than you will in LIMBO
Gameplay:
LIMBO features only three controls which are move, jump, and interact. These controls may make you think that getting through it is cake, but that is where you are wrong. The LIMBO world features many fun and exciting puzzles which will make you think on your feet. The world, and all of its ways of death, equals you dying a lot to find out how to work each puzzle to move on. The puzzles though are never too tough to figure out, but never to easy that you just race through the game.
As the game progresses you will notice how there really isn't two of any one puzzle. The developer's creative ways of putting obstacles in front of you, and having you figure out how to get around it is just amazing, especially in an arcade game. Some times you will find your selves racing against time to survive, while other times you could be taking your sweet time lining up the perfect jump to get across a canyon.
Graphics/Music:
The 2D side scrolling graphics in LIMBO, though seemingly simple, simply make the game. The darkness with small amounts of light truley add to the suspension, and make you ask yourself what the world of LIMBO really is. Some gamers have said that the game is just too dark, but if that is the case, you can also hit pause and go to options to add brightness. Sometimes though, the puzzles and what you have to interact with to clear an obstacle can be hard to see until you stumble upon it.
The music in LIMBO also creates a unique atmosphere that separates LIMBO from any other arcade game. Hearing eerie music chime in as you walk can suddenly make you freak out looking for what obstacle is next. Then after getting past a tough obstacle, hearing that soothing peaceful music just makes you feel like you really are immersed in the LIMBO world.
Story:
LIMBO really doesn't offer much of a story besides the fact that your sister has gone missing and you, the brother, enter the world of LIMBO to find her. This may possibly make you think that the game is dumb or boring without a story, while in fact it makes the game better. As you go along and get through puzzles, you continue to ask yourself what LIMBO is, and where your sister could be. These questions that you ask yourself truly add to the dark experience that you feel while playing.
Experience:
After hearing so much hype about this game, I truly couldn't pass it up, and I can tell you that it offers a unique experience both on the gameplay and artistic side. Yes, the game is short with my game lasting roughly 5 hours. I used a guide on a couple parts of my game, so if you go in completely guide-free, it could take you anywhere from 5-7 hours. It offers a moderate amount of replay value with some fun achievements to try and get, and a leaderboard to see how fast you can clear certain chapters of the game. The question of, is 1200 Microsoft Points too much, may be a legit case. With a unique experience like LIMBO, you can't really argue too much before you are hooked on this fun arcade title. Overall, LIMBO hits a home-run and can certain be compared to Braid, Castle Crashers, and Trials HD as some of the best XBLA games of all time.
Gameplay:
10/10
Graphics/Music:
9.5/10
Story:
9/10
Overall Score:
9.5/10